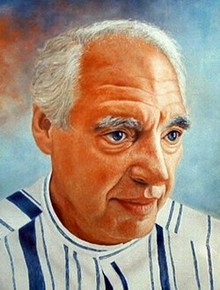 Eric Rolf
, a western spiritually based teacher/counselor, is a modern renaissance man.


Born November 27, 1936 in New York City, he has dedicated his life to the exploration of the creative and communications processes from their inner sources.

He is also well known for his natural self healing and personal self realization activities with both individuals and groups of all types.
Eric Rolf is the creator and developer of:
Soul Medicine - a revolutionary self healing model.
The Body's Secret Code - a unique organ by organ communications relationship with our lives.
The Inner Creative Language - the secrets of intuition and the 10 inner senses.
The Nutrients of the Soul - an activities guide to inner empowerment.
The Alma Paradigm (the soul medicine paradigm for living and self healing).
The Eric Rolf Sacred Water remedies - 11 highly energized, expanded awareness water concentrates.
The Numerology of the Soul - an advanced numerological perspective for personal insight.
Mineral Medicine - Using stones, minerals and crystals for self healing.
Soul Nutrients Newsletter - focusing on awareness, creativity, health, intuition and wellbeing.

He has also written a number of books including:
Counting on Your Soul – the numerology of the soul.
Soul Medicine – the anti-medicine of creative cause and inner listening.
Fruits from My Tree.
Teachings: the path of flavor.
Time/Life Quality.
Eric Rolf Speaks about the Golden Silence Remedies
Eric Rolf teaches groups in seminars and workshops and attends to individual consultations in person and by telephone. A number of well known individuals and companies have benefited from contacts with him including: Exxon, Swedish Telephone, a wide range of advertising and media agencies, and artists Gilbert Williams, John Lenon, Yoko Ono, Paul Simon, and Carlos Santana. He also worked for NASA during the Apollo program and was nominated for a Genie Award for his accomplishments related with intuition. In addition to the US and Hawaii Eric Rolf has lived and worked in various countries in the Caribbean, South America, Scandinavia, England, Germany and France. Since 1981 Eric Rolf has lived and worked in Europe, primarily in Spain and Sweden. He currently lives in Paradise Valley, Arizona. He continues to conduct courses in Europe and recently has begun re-initiating work contacts in the US via the internet and through courses and personal mentoring.